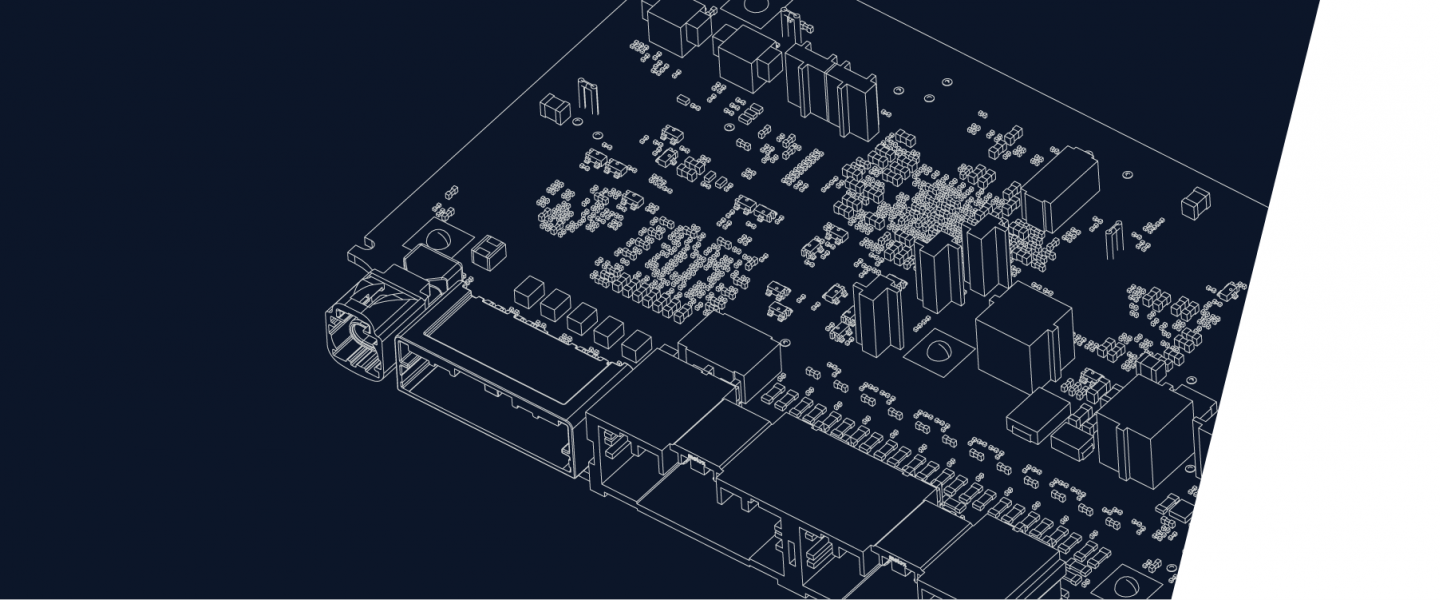 TTTech Auto N4 – Network Controller
High-Performance ECU with Advanced Networking Capabilities
Request a Quote
About N4 – Network Controller
The N4 is a powerful ECU with advanced networking capabilities, well suited for modern E/E architectures and software-defined vehicles.
This unique ECU offers flexibility and can be used for multiple use cases:
A Secure Gateway
Firmware-Over-The-Air (FOTA) update master
Domain controller
Central and Zonal computing
A wide range of OSs and software stacks can be used. It has two CPU clusters: Arm Cortex-A53 and Cortex-M7. Microcontroller-style and advanced OS can run in parallel (example: AUTOSAR Classic and Linux). A reference software and demo apps will be provided with the starter kit.
Key Benefits
✓
Sufficient performance for demanding applications – up to 11970 DMIPS* on 4x Arm Cortex-A53 and 3x Arm Cortex-M7

✓
Future-proof memory size for advanced operating systems, failsafe updates and logging – 2 GB RAM, 8 GB Flash

✓
Modern automotive connectivity – 1x1000BASE-T1, 6x100BASE-T1, 1x100BASE-TX, 12xCAN (FD), 2xLIN, high bandwidth data routing with hardware acceleration, firewall capability
✓
High quality – designed & tested according to strict automotive standards, IP52 rating
✓
Safe and secure automotive platform – fail-safe application hosting and signal-based routing up to ISO26262 ASIL B, ASIL D safety requirements can be considered on request, hardware support for secure boot, secure flashing, authenticated diagnostics, key management, authenticated communication, and 3rd party integration of IDS and OTA solutions
Product Overview
---
Product
CPU
Number I/Os
Field Bus / Interfaces
Safety Certification / SIL Level
Programming Support
N4 – Network Controller
Up to 11970
DMIPS on 4x
Arm Cortex-
A53 and 3x
Arm Cortex-M7
2 Outputs
1 Wake-up Input
1x1000BASE-T1,
6x100BASE-T1,
1x100BASE-TX,
12xCAN (FD), 2xLIN
ISO 26262 ASIL B
Yocto GNU/Linux and other POSIX OS possible AUTOSAR
Classic envirionment
TTC 2310
3 cores 32-bit,
300 MHz
20 inputs (analog, digital, timer, SENT)
36 outputs
4 x CAN
1 x CAN ISOBUS
1 x CAN (wake-up capable)
1 x LIN
IEC 61508 SIL 2
EN ISO 13849 PL d
ISO 25119 AgPL d
SRL2
ISO 26262 ASIL C
ISO 19014 MPL d
C programming (Matlab Simulink I/O Blocklib available)

CODESYS® Safety SIL 2 including support for CANopen Safety Master
TTC 2380
3 cores 32-bit,
300 MHz
20 inputs (analog, digital, timer, SENT)
40 outputs
4 x CAN
1 x CAN ISOBUS
1 x CAN (wake-up capable)
2 x Ethernet
1 x LIN
IEC 61508 SIL 2
EN ISO 13849 PL d
ISO 25119 AgPL d
SRL2
ISO 26262 ASIL C
ISO 19014 MPL d
C programming (Matlab Simulink I/O Blocklib available)

CODESYS® Safety SIL 2 including support for CANopen Safety Master
TTC 2385
3 cores32-bit,
300 MHz
20 inputs (analog, digital, timer, SENT)
40 outputs
4 x CAN
1 x CAN ISOBUS
1 x CAN (wake-up capable)
2 x BroadR-Reach*
1 x LIN
IEC 61508 SIL 2
EN ISO 13849 PL d
ISO 25119 AgPL d
SRL2
ISO 26262 ASIL C
ISO 19014 MPL d
C programming (Matlab Simulink I/O Blocklib available)

CODESYS® Safety SIL 2 including support for CANopen Safety Master
TTC 2390
6 cores 32-bit,
300 MHz
20 inputs (analog, digital, timer, SENT)
40 outputs
4 x CAN
1 x CAN ISOBUS
1 x CAN (wake-up capable)
2 x BroadR-Reach*
1 x LIN
IEC 61508 SIL 2
EN ISO 13849 PL d
ISO 25119 AgPL d
SRL2
ISO 26262 ASIL C
ISO 19014 MPL d
C programming (Matlab Simulink I/O Blocklib available)

CODESYS® Safety SIL 2 including support for CANopen Safety Master
TTC 590
32-bit,
180 MHz
36 inputs (analog, digital, timer)
60 outputs (36 x PWM with current feedback)
6 x CAN
1 x CAN ISOBUS
1 x BroadR-Reach®
1 x LIN
1 x RS-232
EN 61508 SIL 2
EN ISO 13849 PL d
ISO 25119 AgPL d*
ISO 26262 ASIL C*
CODESYS® Safety SIL 2
C programming (Matlab Simulink I/O Blocklib available)
SAFERTOS® integration
TTC 580
32-bit,
180 MHz
36 inputs (analog, digital, timer)
60 outputs (36 x PWM with current feedback)
7 x CAN
1 x Ethernet
1 x LIN
1 x RS-232
EN 61508 SIL 2
EN ISO 13849 PL d
ISO 25119 AgPL d*
ISO 26262 ASIL C*
CODESYS® Safety SIL 2
C programming (Matlab Simulink I/O Blocklib available)
SAFERTOS® integration
TTC 540
32-bit
180 MHz
52 inputs (analog, digital, timer)
44 outputs (28 x PWM with current feedback)
4 x CAN
EN 61508 SIL 2
EN ISO 13849 PL d
ISO 25119 AgPL d*
ISO 26262 ASIL C*
CODESYS® Safety SIL 2
C programming (Matlab Simulink I/O Blocklib available)
SAFERTOS® integration
TTC 510
32-bit,
180 MHz
44 inputs (analog, digital, timer)
40 outputs (16 x PWM with current feedback)
3 x CAN
1 x LIN
EN 61508 SIL 2
EN ISO 13849 PL d
ISO 25119 AgPL d*
ISO 26262 ASIL C*
CODESYS® Safety SIL 2
C programming (Matlab Simulink I/O Blocklib available)
SAFERTOS® integration
TTC 508
32-bit,
180 MHz
44 inputs (analog, digital, timer)
32 outputs (10 x PWM with current measurement)
2 x CAN
1 x CAN ISOBUS
1 x BroadR-Reach®
EN 61508 SIL 2
EN ISO 13849 PL d
ISO 25119 AgPL d*
ISO 26262 ASIL C*
C-programming (Matlab Simulink I/O Blocklib available)
TTC 94
16/32 bit
80 MHz
28 inputs (analog & digital)
20 outputs (8 x PWM, 4 PWM with current feedback)
4 x CAN
1 x LIN
1 x RS 232
EN ISO 13849 PL d*
CODESYS®
C-programming (Matlab Simulink I/O Blocklib available)
TTC 32S
16-bit,
80 MHz
14 inputs (analog & timer)
16 outputs (digital, voltage, PVG and 8x PWM,
6 with current feedback)
2 x CAN
EN ISO 13849 PL d*
C-programming (Matlab Simulink I/O Blocklib available)
TTC 30SH
16-bit
80 MHz
14 inputs (analog & timer),
16 outputs (digital, voltage, PVG and 8x PWM, 6 with current feedback)
1 x CAN
EN ISO 13849 PL c
C-programming (Matlab Simulink I/O Blocklib available)
TTConnect 616CS
3 cores 32 bit
300 MHz
Not applicable
6 x 100BASE-T1 BroadR-Reach®
1 x 100BASE-TX Ethernet
Not applicable
Not applicable
"plug & play" solution via TTC Downloader
*available for
C-programming only
---
Product
CPU
Number I/Os
Field Bus / Interfaces
Safety Certifcation / SIL Level
Programming Support
TTC 48XS
16/32 bit,
80 MHz
28 inputs (analog & digital),
20 outputs (8x PWM)
1 x CAN
EN ISO 13849 PL d
Slave software preinstalled –
attached to a master
controller via CANopen as slave unit
TTC 30XSH
16/32 bit,
80 MHz
14 inputs (analog & timer),
16 outputs (digital, voltage, PVG and 8 x PWM, 6 with current feedback)
1 x CAN
EN ISO 13849 PL c
Slave software preinstalled –
attached to a master
controller via CANopen

Safety as slave unit