Expert Talks: Christian Unhold, Senior System Architect Electronic Controls Design House at TTTech Auto
"What the market needs today are series-proven solutions that offer safety guarantees. At TTTech Auto we are well equipped to support our customers on their way to new E/E architectures." said Horst Willburger, Director Electronic Controls Design House (ECDH) at TTTech Auto in our last interview Making software-defined cars tangible.
This time we speak with Christian Unhold, Senior System Architect at ECDH, who tells us about the advanced solutions the department offers our customers to help them achieve safe, highly automated, software-defined vehicles. We explore the needs of the market, explain why our N4 high-performance ECU with TSN capabilities is being used for some of the most complex future-proof use cases, and more.
In our previous interview, Horst explained how ECDH provides leading expertise in the technologies that enable the transition to new E/E architectures. He also described the different engagement models being implemented to achieve the required agility. Christian, can you tell us what the market needs today to pave the way for tomorrow and how our offering supports this?
The continuous evolution of vehicle E/E architectures offers immense opportunities. Traditional architectures are struggling to meet growing customer expectations for connectivity, entertainment and safety. The industry's primary challenge is to deliver cutting-edge digital experiences in the vehicle cabin while ensuring safety, reliability and cost efficiency. The software-defined vehicle addresses this challenge by replacing numerous control units and bulky wiring harnesses with powerful in-vehicle computers and software. This transition offers more flexibility and greater potential for leveraging re-usable platforms.
Together with our partners and customers, TTTech Auto has always been on the forefront of in-vehicle computers and complex automotive software. Our extensive expertise enables us to prototype and develop highly optimized in-vehicle computers that incorporate the latest technologies such as powerful CPU clusters, AI accelerators, PCI Express, and deterministic multi-gigabit Ethernet. In addition, we continue to dedicate ourselves to supporting, expanding and customizing our range of off-the-shelf Electronic Control Units (ECUs). Our goal is to provide comprehensive support to our customers at every stage of their transformation journey.
ECDH's N4 Network Controller, a high-performance ECU with advanced networking capabilities, is the robust, market-ready solution that can truly prepare our customers for future vehicle development. What are N4's greatest strengths and how do its TSN capabilities contribute to the realization of modern vehicle E/E architectures?
The N4 Network Controller is our latest road-ready product. It provides powerful CPUs, 8 TSN Ethernet and 12 CAN FD interfaces in a compact package. The sophisticated system-on-chip allows us to assemble software of multiple applications while limiting development complexity. Equipped with high-density flash memory (typically 8 GBytes), the N4 is suitable for a variety of use cases. It can act as a secure gateway, update itself and other ECUs in the vehicle via Firmware-Over-The-Air (FOTA), and host additional applications for our customers. With the on-board TSN Ethernet switch and hardened security features, it can act as a hub in modern gateway or zonal architectures. CAN is still a contemporary technology, so the ability to interface with existing CAN (FD) buses and transfer data to Ethernet is appreciated by our customers.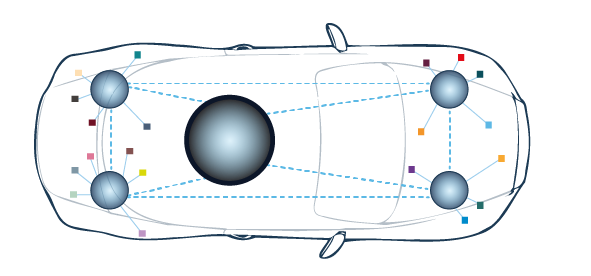 In modern zonal E/E architectures, zone controllers are connected to sensors and actuators in a specific region of the vehicle. A central in-vehicle computer provides high processing power. Automotive TSN Ethernet is the key technology to connect these components and enable distributed applications.
For the N4 Network Controller, we use Arm's safety cores, but also benefit from NXP's high-performance microchips. We are already part of Arm's Automotive Ecosystem and Functional Safety (FuSa) partnership and will soon join the partnership with NXP Semiconductors. How can working with such strong technology partners add even more value to our product?
ARM is the most widely used instruction set architecture and is also gaining a foothold in the automotive market. Adoption of standard architectures allows microcontroller vendors to focus on providing the right mix of connectivity for targeted use cases and efficient production of high-quality chips. Customers can be confident that they will find a familiar solution with proven performance. The adoption of ARM enables us to run a wide range of compatible software on the N4 Network Controller.
NXP offers a compelling range of automotive microcontrollers featuring ARM processors. For the N4 Network Controller ECU, the NXP S32G2 Vehicle Network Processor is the perfect solution: with its two clusters of ARM Cortex processors, it can run Linux in parallel with AUTOSAR, allowing us to implement features in the most effective way and provide the perfect blend of connectivity, performance and cybersecurity. NXP's strong support has made our development more effective and allows us to add features faster.
ECDH enriches TTTech Auto's offering by providing not only software, but also the most advanced hardware solutions for future-proof automotive projects, as well as maintenance and consulting services. What would you say is the most important benefit ECDH brings to our customers as they move toward a safer, highly automated, software-defined future? 
Software needs hardware to run on. I think that in the long run, the automotive industry will converge toward a common E/E architecture as key technologies mature and legacy components are phased out. In-vehicle computers and zone controllers can then become a largely standardized commodity, comparable to data center hardware.
In the meantime, a platform-specific in-vehicle computer is the most efficient way to enable next-generation digital experiences. The wide range of functions that such a vehicle computer supports and the need to integrate it into an existing E/E architecture with existing ECUs make the design of a vehicle computer and its interfaces complex. We have proven that we can help specify and develop vehicle computers for our customers. And we will continue to update our services with the latest technologies available.
The advantage TTTech Auto's Electronic Controls Design House offers its customers is the unique combination of new technologies, high-speed interfaces, safety and integration with software.
 
Related Insights
The critical role of system testing in delivering safe solutions to our customers
Read more: The critical role of system testing in delivering safe solutions to our customers
Unacceptable Phrase ′Smartphone on Wheels′
Read more: Unacceptable Phrase ′Smartphone on Wheels′
How is South Korea influencing the automotive industry?
Read more: How is South Korea influencing the automotive industry?