Expert Talks: Shashank Gaur, Manager Pre-Sales at TTTech Auto
Today we sat down with TTTech Auto´s Pre-Sales Manager Shashank Gaur to explain the role Pre-Sales plays in bringing TTTech Auto´s products and services across the globe. Discover what happens "behind the scenes" when it comes to setting the stage for successful product delivery and ultimately customer satisfaction.  
Most people are well informed about the Product Management or Sales department and their role in product definition and delivery. Could you explain how the TTTech Auto Pre-Sales team fits into this setup? Pre-Sales is a dedicated team of technical experts who can enhance the technical quality of our customer engagements, whether it is a customer workshop on future architectures or the creation of proposal documents that describe what we will do in a project. It is a combination of several roles: Product Management or Sales, Solution Architecture/Engineering, Innovation, and Customer/Market Intelligence. TTTech Auto Pre-Sales supports Sales in achieving business goals in both the short- and long-term vision. To explain briefly: Pre-Sales is about providing technical guidance to the customer while respecting the company's vision and the planned roadmap of our products.

The Pre-Sales Customer Journey
How would you describe working in TTTech Auto Pre-Sales team? What does your day look like? It is a very dynamic environment. One day you are discussing innovative technologies such as DDS protocol with a customer in China and the next container orchestration with a customer in the US. Externally, we deal with customers almost daily and are responsible for organizing workshops. This requires coordination and preparation, so good networking and organizational skills are needed. Internally, we work with people at different levels: system architects, executives, and department heads. Internally, we need to stay on top of things and regularly coordinate with Product Management, Sales, Management, etc. Of course, there is always room for team-bonding events and recharging for new business challenges. Sometimes our colleagues around the world get together to discuss technical details of their joint work and lessons learned, or to participate in virtual social activities like a Virtual Escape Room.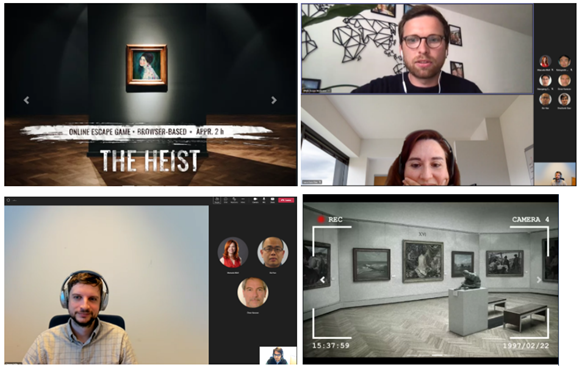 An Escape Room: solving the riddle of who stole the famous Klimt portrait 
What added value do you want to bring to the customer with your team goals? In supporting the development of customer solutions, we always take into account their development plans and pain points but also respect our product roadmap and mid-term goals defined by Product Management. We build long-term relationships based on trust. Pre-Sales provides technical support to our customers in the use of our products in several stages:
We support sales with technical documentation for initial interactions with customers.
We provide technical workshops and deep dives with customers to understand their problems and align them with our solution architecture.
We lead the creation of technical documents needed for customer proposals
We ensure customer pain points are well documented and help Product Management develop the right product and solutions that solve those pain points.
We act as a technical advisor to the customer through the various steps of the engagement, from proof-of-concept projects to a series project.
The future of the automotive industry is exciting, but also challenging. How do you ensure that MotionWise, our Safe Vehicle Software Platform, is a future-proof solution that meets customers' needs, today and tomorrow?
It is important to strategically develop the product with future requirements in mind. To achieve this, we document customer use cases and provide regular input to Product Management so they can develop product strategy based on actual customer requirements. We provide information on technology trends and market intelligence as well as competitors, based on numerous discussions with customers. Coordination with the Field Application Engineering team is essential to obtain feedback on the use of our product and contribute to improvement efforts. We also represent and demonstrate our product at various technical events, such as the Automotive Ethernet Congress.
What was your career path like at TTTech Auto and why did you choose Pre-Sales as the area where you can make your contribution?
My educational background ranges from electronics and communications to embedded real-time systems. I have always been interested in communication topics and chose to work at TTTech Auto to contribute to topics such as Time Sensitive Networking (TSN), an industry standard for effective cross-vehicle communication. After working on TSN, I was assigned to Pre-Sales and took responsibility for technical discussions with customers about scheduling, communication, etc. In my current position as Manager Pre-Sales, I coordinate the global team in the US, China, Japan, Austria, and Spain. Why did I choose Pre-Sales? Because it gives me the opportunity to interact with customers and make a difference. In this team, we are at the forefront of the latest trends that we can bring to customers. We serve as the interface between Innovation, Product Management, Sales, Customer Programs and Safety Programs to support the continued growth of the company.
What actions are you taking to establish a true team culture in the newly formed TTTech Auto Pre-Sales team that spans multiple countries? The Pre-Sales team is a truly global team with members in the US, Japan, China, Spain and Austria. Our team meetings are held every week, alternating between mornings and evenings, to accommodate all participants. There are also other activities such as weekly technical discussions with various internal experts. As a team leader, it is important for me that we focus on the individuals and their experience each week. We start our team meetings with a "recap of the week" where everyone can talk about their experiences, whether positive or negative. This also gives us the opportunity to recognize the accomplishments our colleagues have made each week. To me, appreciation, even for the smallest tasks, is very important and I am trying to build a culture where we help each other succeed.  
We are hiring!
If you are interested in joining the Pre-Sales team at TTTech Auto, check it out here.
Related Insights
How is South Korea influencing the automotive industry?
Read more: How is South Korea influencing the automotive industry?
Making software-defined cars tangible
Read more: Making software-defined cars tangible
TTTech Auto becoming a benchmark company
Read more: TTTech Auto becoming a benchmark company