Expert Talks: Davor Kedačić, Manager Test Engineer at TTTech Auto CEE Osijek 
At TTTech Auto, our mission is to enhance the driving experience by developing cutting-edge automotive technologies that meet the most stringent requirements. This inevitably includes personal safety as the top priority of the modern automotive industry. 
However, systems cannot be safe if not tested to be safe. We all know that trial and error leads to complete and optimized solutions, and that no technology can be integrated into a modern vehicle without first being thoroughly tested and ready for use in the real world. 
This is exactly what our team of engineers in the Osijek regional office does - they test all major projects to ensure that our solutions meet the highest quality standards before they are deployed by customers. Now that the Osijek office has also become a hardware farm, it seems to offer the perfect balance of quality and well-organized hardware resources to deliver the best performance and results. 
On the importance of testing, what it entails, what gives us an advantage when working on a market-ready product, and more. Read in our latest interview with Davor Kedačić, Manager Test Engineer at TTTech Auto CEE Osijek.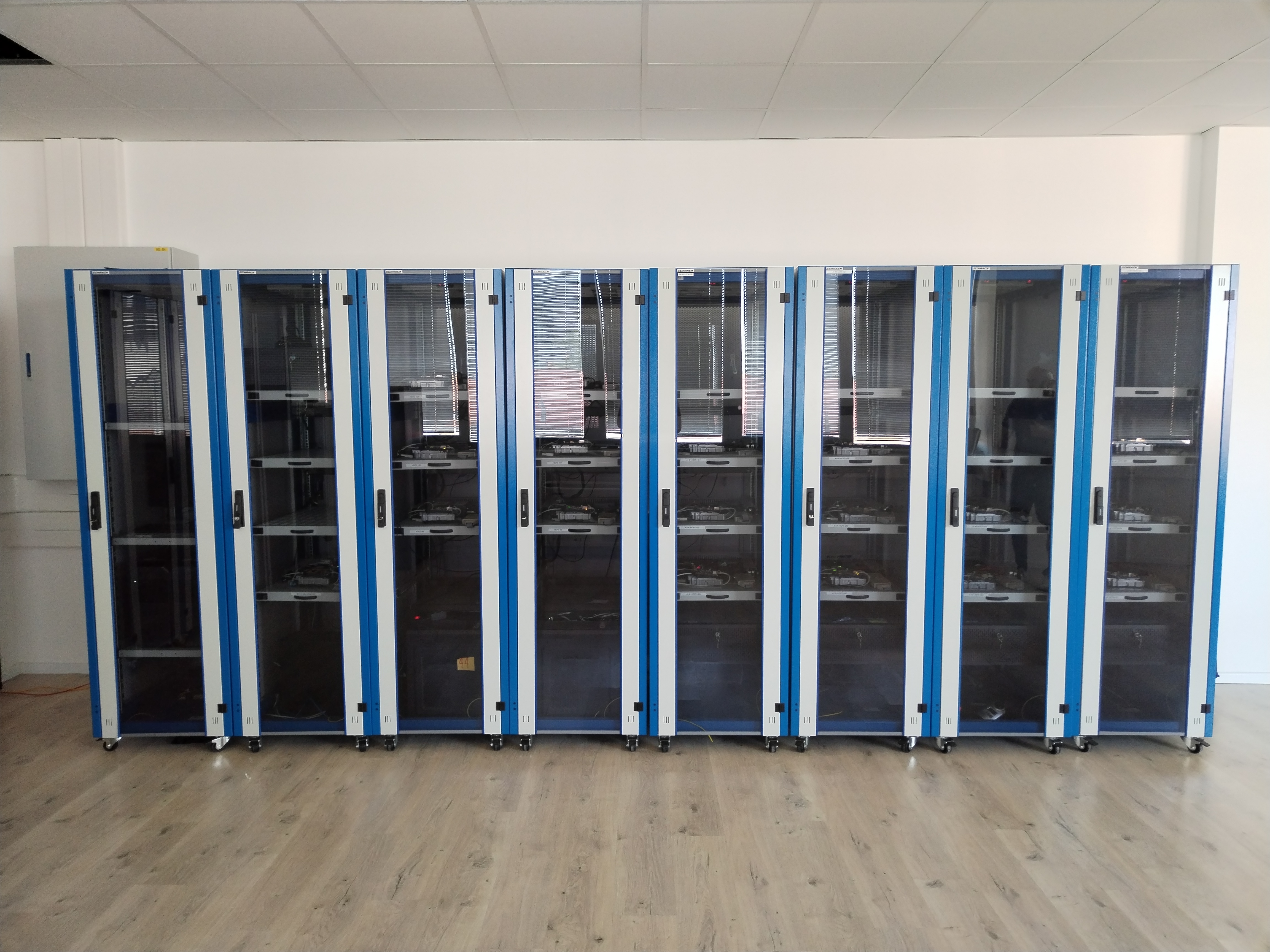 Part of the Hardware Farm at TTTech Auto CEE Osijek 
Davor, can you briefly tell us what the testing process looks like and how it contributes to the overall solution maturity? It would be interesting to know what you are working on right now?
In the automotive industry, the testing process plays a critical role in ensuring the safety, reliability and overall quality of vehicles and their components. The testing process is comprehensive and encompasses various phases during the development and manufacturing of vehicles. Overall, the testing process contributes to the maturity of the solution in several ways, mainly by identifying and fixing problems early in the development process and rigorously testing the software to reduce the risk of accidents and improve overall customer satisfaction.
Currently, our primary focus is to establish a hardware farm with the goal of maximizing the use of available hardware within TTTech Auto by providing a platform for hardware hosting, maintenance, and centralized and monitored access to hardware.
At TTTech Auto CEE Osijek, you perform many platform tests, directly contributing to the success of TTTech Auto products and solutions. But you also cover other aspects beyond testing itself, such as test development and automation. You seem to be self-sufficient in this area. Can you tell us a bit more about it? 
Yes, you are right, I would say that we cover the full cycle of test development and testing and are one of the "last lines of defense" before the software is delivered to the customer. We take this role very seriously, and that's why we put a lot of emphasis on ensuring that the tests we develop meet the highest quality standards. The same applies to testing. We continuously improve our testing methods and approaches to ensure that the software delivered to the customer is highly tested and stable. 
Automation is one of the aspects of testing that we focus heavily on. A high level of automation provides us with many benefits, for example, it allows us to get faster feedback on the state of the developed software, reduces the possibility of human errors, and gives us the ability to test overnight when testers are not working. We are constantly working to improve this aspect by using new approaches to testing and test development. One of the features we are developing is distributed testing, which is closely related to the hardware farm topic. The hardware farm provides an overview of all available stations and distributed testing provides an intelligent way to distribute the execution of automated test cases across these stations. The combination of these two topics will be a valuable addition to our software development and testing arsenal. 
CEE Osijek is not only the test center, but also becomes the hardware farm, along with our Barcelona office. This is a great success for the team in Osijek, as it allows faster and more effective work. What were the reasons for this setup and what is the expected result? 
The concept behind establishing a hardware farm originates from a fundamental question: "Are we making the most of our available hardware?" Currently, hardware is spread across different sites and teams, which in itself is not a big problem. However, the real problem is that accessing the hardware is not easy. To solve this problem, we devised a hardware farm solution that serves two main purposes: control and visibility over hardware. This approach involves the development of three interconnected components: the hardware farm itself, asset management, and a centralized booking system. 
The hardware farm will centralize all hardware resources in two locations, currently Osijek and Barcelona. While gathering hardware in a single location may not be revolutionary, when combined with global asset management, we gain complete control and visibility over available hardware, whether it is being used or not, where it is being used, the number of hardware items, etc. This in turn leads to controlled access to hardware, improved scalability, lower costs and faster maintenance processes. 
The final piece of the puzzle is the booking system, which provides visibility into hardware inventory. It will allow developers, testers and our automated processes to reserve the hardware they need and provision it when they need it. This streamlined approach will improve collaboration between developers, testers and automated processes and ultimately lead to maximum efficiency in hardware utilization. 
We are aware that a well-orchestrated vehicle system consists of different but interdependent building blocks: software, hardware, electronics, etc. The fact that CEE Osijek has its own testing expertise and hardware management makes it a valuable "workstation" for TTTech Auto. What is your view on this? 
Although CEE Osijek stands out, from my point of view, for its particular strengths in test development and testing, it is important to recognize that other sites within our organization have their own competencies and areas of focus. Each location contributes in a unique way to the overall success of our projects and products. 
The creation of the hardware farm is an exciting initiative with a clear goal: to increase productivity across all sites. By centralizing and optimizing hardware resources, the goal is to enable each team to better utilize these critical resources. The hardware farm will serve as a platform for collaboration, allowing other sites to access and use hardware efficiently, ultimately leading to better project outcomes and higher overall productivity for the entire company. 
In summary, the implementation of the hardware farm will enable us to leverage the strengths of each site and foster a culture of seamless collaboration, driving innovation and success at TTTech Auto. 
With currently more than 150 employees and 140 engineers in the Osijek office, it is fair to say that much of what we deliver at TTTech Auto comes from right here. As a test center that is now expanding its scope to include the hardware farm, the office appears to be growing and has no intention of slowing down. What are some of the future plans for the Osijek CEE office, which you believe will add even more value to our company's offering? 
In the future, plans are to improve our processes and efficiencies in test development and testing, and build the hardware farm as soon as possible. I believe that the hardware farm will be a game changer for the entire TTTech Auto organization.
By centralizing and optimizing our hardware resources, we expect significant benefits and better results for our projects. In addition, I believe that the hardware farm will help us advance our automation efforts. 
By simplifying access to hardware and reservations through the central booking system, we will be able to focus on increasing our efficiency in all our automation efforts - not only in Osijek, but at TTTech Auto as a whole. 
Related Insights
Defining future vehicles with forward thinking technology
Read more: Defining future vehicles with forward thinking technology
Unacceptable Phrase ′Smartphone on Wheels′
Read more: Unacceptable Phrase ′Smartphone on Wheels′
How is South Korea influencing the automotive industry?
Read more: How is South Korea influencing the automotive industry?