Car makers have a lot on their plate these days. The trend towards software-defined vehicles is enabling new and important breakthroughs for Autonomous, Connected, Electric, Shared (ACES) mobility. But the very fact that cars are getting smarter and more automated means that vehicle software platforms supporting the increasing number of software functions are becoming far more complex and sophisticated. The challenge for automotive manufacturers is to support autonomous innovation in every way possible, and to speed up time to market for new features. However, the interdependencies between safe driving features and entertainment features requires a holistic approach to vehicle management. Of course, certain "fun" features will enable to differentiate OEM offers, but safety must remain a non-negotiable vehicle property to earn consumers' trust. Finally, connectivity exposes vehicles to external factors that increase complexity and risk. The technical change is great, and the market goal is bold. Read on to discover more about the technical requirements of these new generation cars and what this means for overall system safety.
How consumer expectations are driving autonomous innovation
Today, consumer expectations are at the center of industry innovation. In other words, OEMs are focusing on evolving needs for onboard information and entertainment systems, enabled by new connectivity features. But delivering the information and entertainment features consumers want requires efficient management and orchestration of a large number of applications and services, as well as the complex interdependencies between them. At the same time, manufacturers are under pressure to bring new information and entertainment capabilities to market very quickly, which means that the entire development process must be agile and efficient.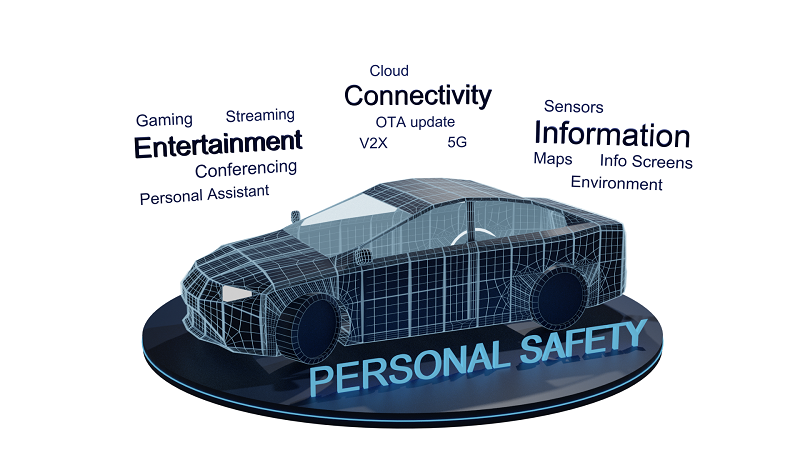 Drivers' satisfaction space
The innovation imperative vs. safety considerations
While rapid innovation is increasingly a differentiator for automotive OEMs, and a critical factor in consumers car-buying decisions, software-defined and autonomous vehicles must also offer the highest levels of safety. As systems become more complex, the safety challenges also intensify. For example, aspects that directly affect safety, such as vulnerability to specific environmental factors, must be considered and suitable solutions implemented. At the same time, cybersecurity challenges associated with connected vehicles must be adequately and appropriately addressed. NXP's White Paper on cybersecurity in automated and connected vehicles states that, "Requesting information about the security capabilities of our cars should become routine, in the same way as we learn about safety, driving parameters and convenience features today. Providers must support this goal with the most advanced technology, so we can all be safe and secure." Most importantly, the automotive industry does not have the luxury of experimenting and learning from our mistakes. Instead, we must ensure that potential safety threats are considered from the outset of any new development effort to ensure a truly safe driving experience for consumers. For all the complexity of this new challenge, one thing is clear: modern consumers want it all. In other words, they will not sacrifice feature richness for the sake of end-to-end safety, or vice versa. Instead, they want the full package of benefits that the very latest technology delivers. With this in mind, we ask ourselves what requirements modern in-vehicle systems must meet to satisfy consumer expectations for both safety and feature richness?
Trust is everything: can consumers be sure that their devices are 100% safe?
Software-defined vehicles are highly complex devices, but devices none the less. Bearing in mind that trust, by definition, is a firm belief in the reliability, truth, or ability of someone or something, vehicles must demonstrate a high degree of accuracy and trustworthiness to be considered safe.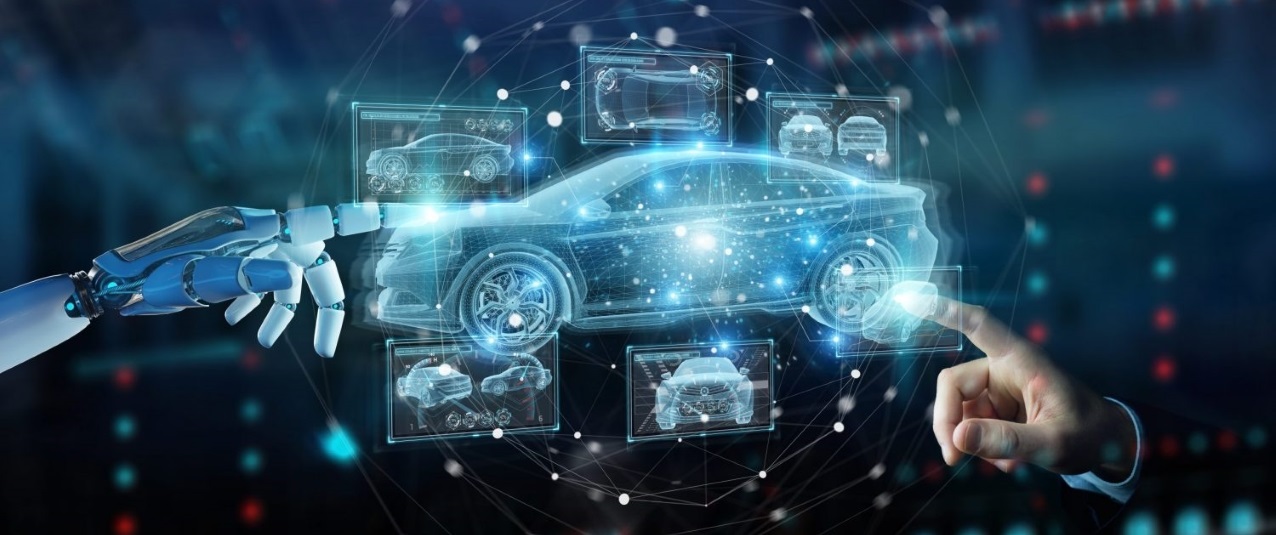 The need for human-machine trust
The need for trust for all connected devices
By the end of the decade, there will be around 100 billion smart, connected devices globally, all requiring end users to take responsibility for their safe operation. As Lars Reger, CTO of NXP, explained at The Autonomous Main Event 2021, "For that, you want to make sure you can truly trust your device." Depending on the device and scenario, our expectations of its trustworthiness may vary. However, we need to be sure that all smart devices deliver certain levels of trust that only comes with safety. For example, should malfunction only extremely infrequently, or not at all. They should also be safe from cyberattacks, and they should ensure that no emotional, financial, or physical harm results from their use. To meet these requirements, consumers expect security to be built into the design, development, and integration processes. In this way, they get an assurance of personal safety, without danger or risk.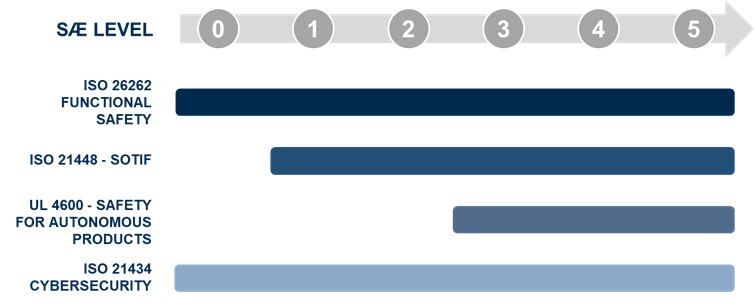 Autonomous vehicles challenges
Why automated vehicles face particular and significant safety challenges
While all connected devices need to meet certain safety criteria, automated vehicles take this challenge to the next level. In this instance, consumers have to put their trust in the 'device' entirely, and any perceived lack of safety means that the risk of driving a particular vehicle becomes simply too great. For this reason, public acceptance of autonomous driving will only happen when users feel absolutely safe and secure. So, can we trust our cars? Until we can answer this question with a simple "yes", there will be no real progress towards ACES mobility.
| | |
| --- | --- |
|   | According to the latest Deloitte consumer study which surveyed 24,000 consumers in 23 countries, safety remains the most important consideration when people think about their next vehicle. |
Why safety and fun can't be separated in ACES mobility
As we saw at the beginning of the article, consumers want their cars to be both safe and fun. However, the nature of software platforms for connected vehicles and autonomous driving mean that entertainment and safety can no longer be separated in modern cars. For this reason, manufacturers need to take a holistic, vehicle-wide view of hardware, software, and specific features of the vehicle management system to identify synergies and interdependencies. This approach allows OEMs to innovate their safety capabilities and entertainment options at the same time, providing functional safety and security-by-design, as well as supporting seamless integration and updates for a wide range of applications and services for an optimal user experience.
Reaching safety goals with a holistic approach
To achieve deterministic and safe vehicle behavior, safety-by-design principles must be applied to all major segments of a vehicle, including all relevant software functions, resource utilization, and in-vehicle network effectiveness. At the same time, safety measures should be applied to continuous software updates to ensure vehicles remain safe as new features become available. This holistic approach to safety requires a strong and consistent focus on specific software components. Specifically, this applies to software that supports proper execution of all software functions, proper clock synchronization, and effective communication between applications – including optimized management of shared memory. To ensure that safety targets are met, hardware platforms must also support these advanced software capabilities, especially in terms of expected clock behavior in the system, memory allocation, etc. All of these capabilities and processes must be constantly monitored so that timely action can be taken in the event of a failure. In addition, hardware and software layers must be abstracted from each other at the system level, with software components interconnected via well-defined interfaces. It should also be possible to configure system in a way it always guarantees safety. To do this, we need to provide an open platform that supports the entire vehicle lifecycle, with the highest level of safety in mind at every step. It must orchestrate all vehicle functions to ensure their guaranteed and accurate execution. Put another way, our software-defined car must be supported by an end-to-end software platform to make the software safe and secure, both on the ground and in the cloud.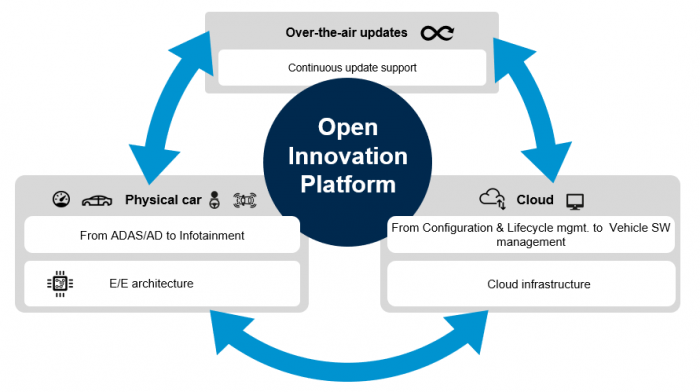 An Open Innovation Platform is the key to realizing a vehicle's full potential  
Industry insights on automotive safety challenges
According to McKinsey there are four key challenges that OEMs must address to remain profitable and that will shape the industry until, at least, 2025. These are: complexity and cost pressure, diverging markets, digital demands and the industry landscape shift.

Key challenges for OEMs in the years to come – new era of autonomous driving safety
OEMs cannot overcome and master these challenges without adapting their tools and strategies for their business growth. Of course, this depends on collaboration between different automotive contributors, and requires the adoption of new standards and practices across the industry. Among the key players who will influence the overall transformation of how cars are built and perceived include software platform providers, app providers, and other non-automotive digital players.
The safe way forward with MotionWise
In a new generation car, an increasing number of applications and connected services bring different constraints and create different safety requirements. Vehicle safety requires that all major vehicle parts communicate effectively with each other and that they perform correctly at all times. A software solution that enables this level of functionality must provide certain guarantees at the vehicle level, whether features and capabilities relate to Advanced Driver Assistance Systems (ADAS) or Infotainment.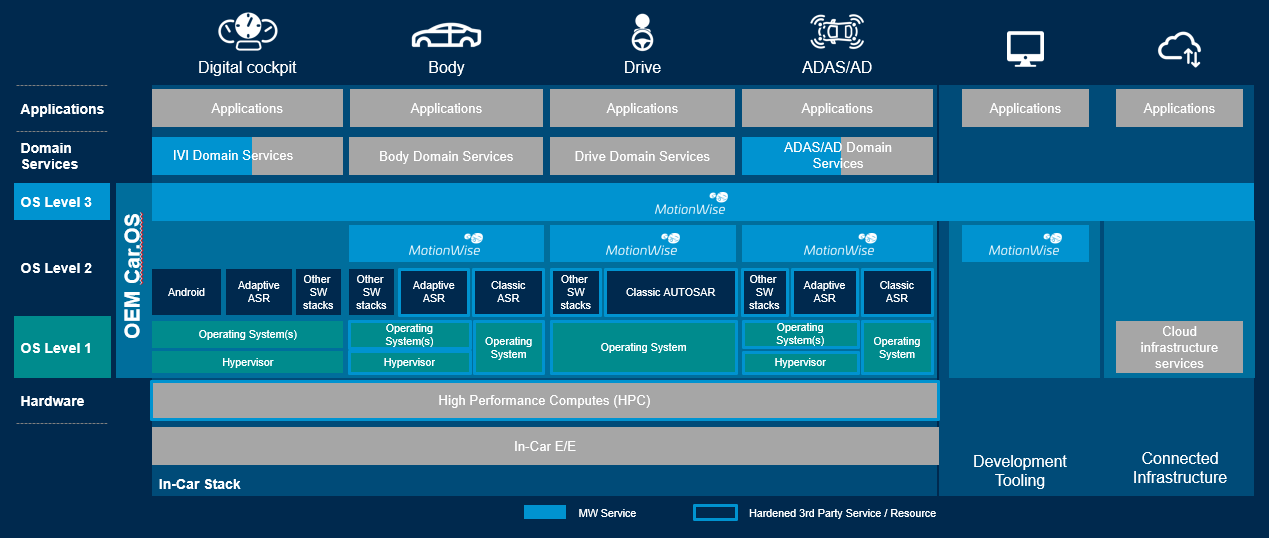 To help OEMs meet customers' demands for safe vehicles that allow fun features, TTTech Auto has developed and continuously improves MotionWise to achieve cross-vehicle safety support
MotionWise is the safe vehicle software platform that supports all phases of vehicle software development lifecycle, from concept through to development, deployment, and updates. It enables faster and more seamless software development, including testing and safety certification processes. The platform also brings flexibility to software developers through abstraction of hardware resources at the vehicle level, as well as reducing development costs through interoperability with a diverse selection of hardware, operating systems (OSs), and middleware software. Our platform enables optimization of computing resources throughout the vehicle by providing intelligent scheduling mechanisms for safety-critical and non-safety-critical applications. In addition, vehicle network scheduling enables reliable communication within the vehicle. Our scheduling tool, MotionWise Creator, allows customers to plan and configure all applications in the computation chain, while everything else is handled by MotionWise. Based on a range of system health and safety monitoring capabilities, MotionWise ensures that the system is running as expected and, in case of an error, initiates diagnostics and recovery. Customers can also configure recovery processes to meet their needs. Our safe vehicle software platform takes care of various vehicle functionalities in different domains of operation, ensuring safety and fail-operational performance for the vehicle. It is available as both an on-premises solution and in the cloud.
 

By using MotionWise tools, we can generate a vehicle-wide network schedule, providing communication guarantees for different devices throughout different domains.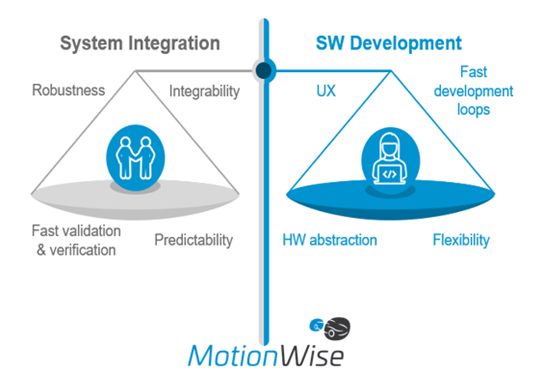 MotionWise is the only solution on the market that satisfies the full range of future automotive requirements for end-to-end vehicle safety
MotionWise complies with the ISO 26262 safety standard and follows clear and detailed safety case. The experienced TTTech Auto safety team has completed multiple successful projects for various OEMs and Tier 1 suppliers, which have enabled our customers to achieve fast and seamless system integration and highly efficient software development. Our teams are continually improving MotionWise based on a program of innovation activities. These include research and development projects such as UP2DATE, which allows TTTech Auto to contribute to the definition of the UP2DATE framework for safe and secure software integration and updates. This also includes testing and evaluation of the framework for the automotive use-case. TTTech Auto covers all relevant aspects of modern vehicle system requirements and is your best companion on the road to autonomy and beyond. We are confident that the future is bright and will bring software-defined cars that are as safe to drive as they are fun to travel in.  
Accelerate your journey towards highly automated driving with MotionWise safety software platform. MotionWise delivers safety by design and fail-operational performance while managing the high complexity of solution elements. As a result, OEMs and Tier 1 suppliers can benefit from faster time-to-market for their automated driving projects and increased competitive edge at reduced costs.  
Stay informed about the most recent technological findings in the automotive industry – visit us at www.tttech-auto.com and follow us on LinkedIn for more on this exciting topic.
Related Insights
Automotive technologies that could make 2023 the year of the software-defined car
Read more: Automotive technologies that could make 2023 the year of the software-defined car
The iPhone on wheels will lack safety for Level 4 autonomy
Read more: The iPhone on wheels will lack safety for Level 4 autonomy
E/E Architectures on the Way to Level 4
Read more: E/E Architectures on the Way to Level 4