Interview with Friedhelm Pickhard, Chief Growth Officer at TTTech Auto
This interview was originally published on AEM's website (Unacceptable Phrase ′Smartphone on Wheels′ (autoelectronics.co.kr))
AEM: How has your experience been at TTTech Auto since your start approximately two years ago?
Friedhelm: At TTTech Auto, we've made significant strides in expanding our presence in the Asian market, which is crucial to our growth strategy. This involved setting up local offices in Korea and China, which has helped us provide better service to our customers in these regions. We've also invested heavily in software quality, with a complete Continuous X pipeline and increased functionality of our product MotionWise. 
Additionally, we've established two new business lines: the Electronic Controls Design House (ECDH) and Safety Consultancy, which provide system safety consulting for our customers. Our efforts have been well-received, with positive feedback from customers in Korea regarding our local engineers' competence and ability to quickly solve issues. We are proud of our accomplishments and look forward to continued growth and success.
AEM: You've been in the automotive industry for a while now. How do you see the current state of the market and recent changes in it? Can you share your observations?
Friedhelm: With over 30 years in the industry, I've witnessed the massive transformation from mechanical engineering to electronics, and now to software-defined products. Today's automotive industry is unrecognizable from just a few years ago, with digital and intelligent interfaces and frequent software updates. We're also seeing a complete change in powertrain from combustion engines to electric motors, which is a high priority for the industry. This transformation is a massive undertaking, and most companies are putting significant effort into achieving their goals.
AEM: Can you share your observations on the differences between your experiences before and after joining TTTech Auto? Additionally, what do you consider to be TTTech Auto's core competence in driving further growth
Friedhelm: After following TTTech Auto with great interest and having previous knowledge of the company, I was presented with a proposition by the esteemed founder, Georg Kopetz, to support TTTech Auto. I quickly accepted the offer due to my admiration for the company's technology and strong compatibility with top management. Since joining, my knowledge of the company has grown exponentially, and I have come to appreciate its strength and resilience. 
TTTech Auto's profound understanding of embedded safety and real-time software is ingrained in its DNA and is critical in the realm of automotive software, especially as we move towards autonomous driving. 
TTTech Auto's solid foundation in academic research positions it to leverage its research capabilities to address safety concerns in the autonomous driving design cycle. This will ensure that TTTech Auto's strengths in embedded safety and real-time software will continue to thrive and contribute significantly to the industry.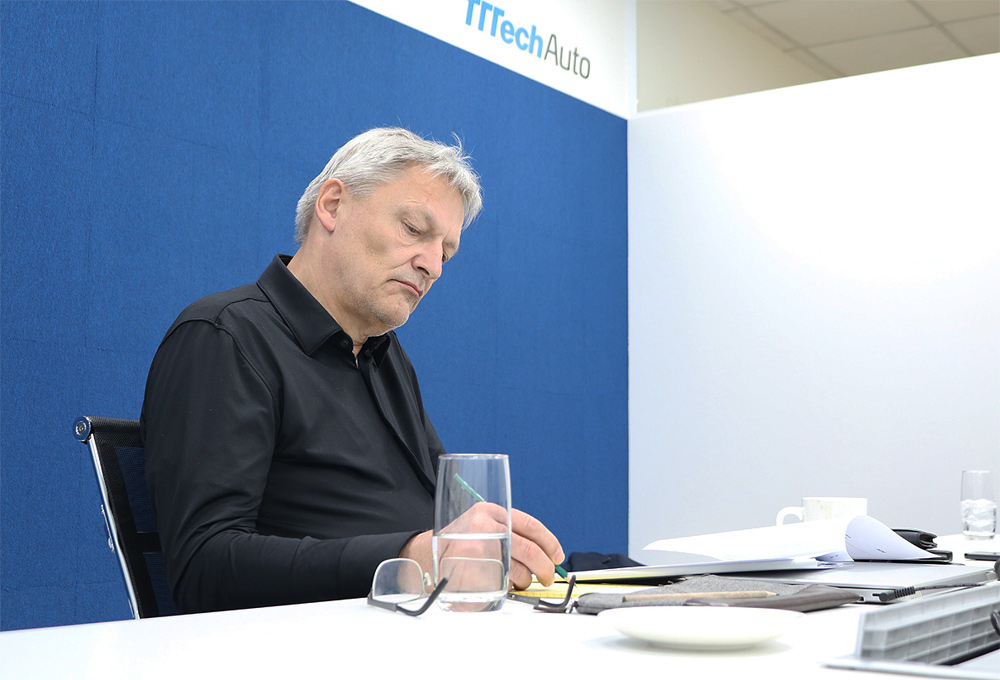 AEM: Cars, including those with autonomous driving capabilities, are becoming more akin to smartphones in their complexity and advanced technology. However, automotive OEMs must strike a balance between speed of development and ensuring safety on the road. How can TTTech Auto assist car manufacturers in navigating this challenge?
Friedhelm: The software in a car is quite different from that in a smartphone, despite the term "smartphone on wheels" used in the automotive industry. In addition to software, there are safety aspects that must be considered. A car has much more software that controls physical systems, such as the braking system and powertrain energy management, with demanding real-time requirements. This differs from the software in a smartphone where waiting a minute is not a safety concern. To combine both worlds, modern software design principles such as Service-Oriented Architecture (SOA) can be applied while ensuring safety and proper validation of the software. 
MotionWise platform enables the adaptation of SOA paradigms with the development paradigms of safety, real-time embedded applications. Continuous development, integration, and validation are important, and MotionWise, together with Continuous X tooling environment, reduces lead time and ensures software fits together. Another important contribution is extensive service on a system level consultancy for safety right from the beginning of system design to handle the increasing complexity of the E/E network computing platform.
AEM: The vehicle architecture is constantly evolving, with frequent requirement changes and faster change cycles. Safety requirements are also changing simultaneously.
Friedhelm: Yes, you're right about the fast-changing E/E architecture of vehicles, which requires the integration of two software paradigms: service-oriented architecture and classical safety design. Our MotionWise platform acts as an intermediary to ensure the coexistence of safety-relevant and non-safety relevant software with different innovation cycles without interference. We prioritize the timely and sufficient allocation of resources to the safety-relevant software to fulfill their requirements.
AEM: The transition to software-defined vehicles has just begun. How can TTTech Auto contribute to this transition?
Friedhelm: The SDV market is open to all participants. However, it is challenging to achieve a software-defined car, especially for newcomers. They know Internet software, but they have limited experience in the field of real-time safety embedded software. The classical OEMs have much more experience in embedded software, in signal-based software, but they need to build up the know-how for SOA architectures, for web-based software.
TTTech Auto supports both new and traditional OEMs in safety system design to ensure real-time and safe vehicle performance. We must ensure that safety-critical applications have the necessary resources and can be executed in the required lead time. So, bringing the new paradigms of SOA, the modern web-based software design, and combining them with the necessary paradigms of safety and automotive design is our contribution towards the latest trend in the industry with a fast innovation cycle. That's why we have made our products, for example, Motion Wise 2.0 or Motion Wise SOA with our DDS stack, ready for service-oriented architecture (SOA).
TTTech Auto also offers virtual validation capabilities to help configure and test software in a virtual space. Thus, we aim to keep up with the increasing demand for faster and safer software applications in vehicles.
AEM: Do you believe China has the potential to become a global technology leader or will their advancements remain primarily domestic?
Friedhelm: China's progress in the automotive industry is impressive, particularly in electric motors. Technical success is likely, but geopolitical barriers may limit expansion.
However, Korea has similar capabilities in speed and greater emphasis on quality, making it an ideal location for operations. Collaborating with local clients in Korea has been an enlightening experience as it provides us with valuable knowledge about their rigorous quality standards. Our commitment to delivering top-notch solutions is reinforced by this partnership, and we benefit from the insights gained from our Korean customers.
AEM: What are the possible risks that the automotive industry may face? As the automotive value chain continues to transform, the question arises as to who will emerge as the dominant player in the future. Will it be a mobility provider or an OEM?
Friedhelm: No one can predict the future, as exemplified by the unforeseeable impact of COVID and the semiconductor crisis. The automotive industry faces different economic challenges in various regions, such as the powertrain transformation in Europe and the promising shift to electric motors in China. However, with numerous OEMs in China, only a few are likely to succeed. 
Additionally, the changing automotive value chain raises the question of who will define the future: mobility providers like Uber or car OEMs? Electrification presents a challenge in the form of a shift in the business model, where platforms can be easily created for different brands, but it remains unclear who will emerge victorious in providing such platforms. Regardless, the industry must adapt to the rapidly changing landscape, and collaboration with partners is crucial for success. This is why it's important to be present in different markets, such as Korea. 
AEM: Do you believe that tech giants such as Apple and Samsung could potentially outperform traditional automobile manufacturers in implementing software-defined vehicles, thereby posing a significant threat to the automotive industry?
Friedhelm: The Swiss mechanic analogy highlights the concept of a shared component used by multiple brands. With electric vehicles, it's even simpler to create a rolling chassis with an electric motor, driving and braking functions, and functional safety, which can then be designed by other companies to fit their brand. If we achieve L4 driving, where the interior design is not related to driving functions, this process becomes even easier. This trend will soon emerge, creating both opportunities and threats for companies. Many firms in the automotive industry already provide rolling chassis and related services.
AEM: What are TTTech Auto's plans for their newly established branch in South Korea?
Friedhelm: Our commitment to the Korean market is evident through the establishment of our local branch office. Our priority is to be close to our customers and to have local salespeople, engineers, and designers who can better understand their needs and facilitate faster iterations.
We believe this approach is essential not only in Korea but in all the countries where we operate. We invest in local capabilities to provide tailor-made solutions for our customers. We have an excellent team in place, and we are confident that we will continue to grow and serve our customers to the best of our abilities.
 
Related Insights
The automotive future lies in safety E/E architectures - are we there yet?
Read more: The automotive future lies in safety E/E architectures - are we there yet?
E/E Architectures on the Way to Level 4
Read more: E/E Architectures on the Way to Level 4
Open Car.OS and the software-defined vehicle
Read more: Open Car.OS and the software-defined vehicle