TTTech has won the prestigious Living Standards Award 2021 in the category "IEEE Standards". The award honors TTTech's standardization efforts in the Institute of Electrical and Electronics Engineers (IEEE). The digital awards ceremony was hosted by award giver Austrian Standards on January 21, 2021. Since its foundation in 1998, TTTech Group has been at the forefront of establishing new technological standards as part of the IEEE body. Most notably Time Sensitive Networking (TSN) is a set of IEEE 802 Ethernet sub-standards. TSN plays a relevant role in modern in-vehicle Electrical and Electronics (E/E) architectures and TTTech Auto uses TSN technology also in MotionWise, the series-proven safety software platform for automated driving.
"It is a great honor for TTTech Group to receive the Living Standards Award 2021 in the category 'IEEE Standards'," says Stefan Poledna, CTO of TTTech Group and TTTech Auto. "We strive to build safe and reliable computing systems to improve human lives. This would not be possible without strong common standards that allow us to scale technology."
Standards save costs and accelerate innovation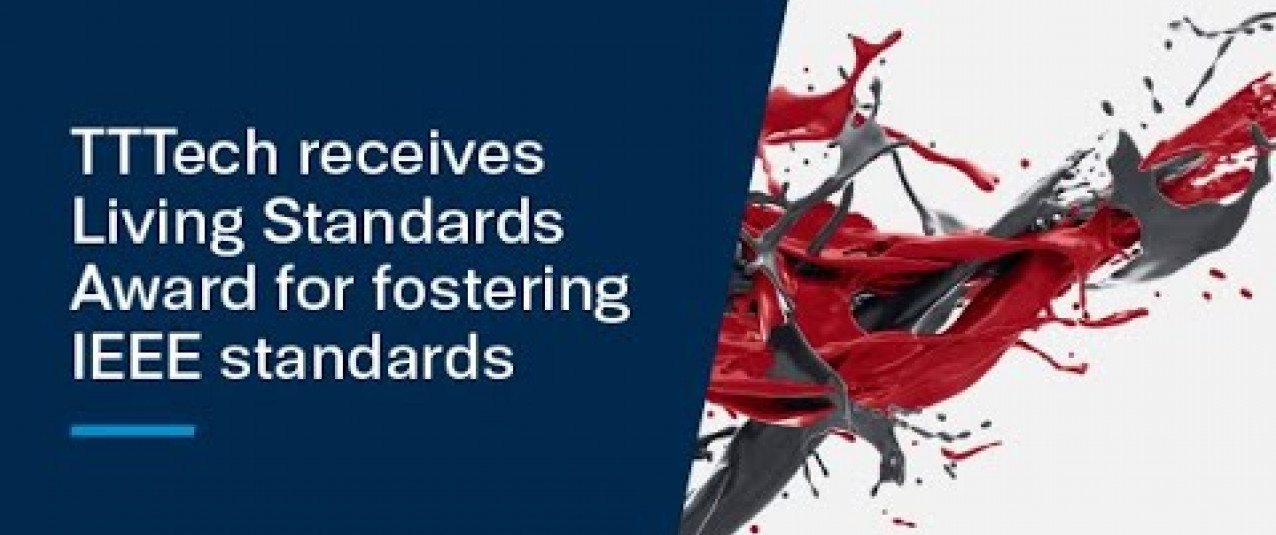 Why are standards so important? "Technology development has become so complex and costly that competing entities must find ways to cooperate on neutral ground under well-defined rules and regulations," says Wilfried Steiner, Director TTTech Labs. "This kind of cooperation of competing entities is often called 'coopetition' and working on common standards is essential for successful coopetition models." In other words, standards create a win-win situation for all involved market participants by saving them development and research costs and providing them all with the same foundations on which new technologies can be built. In doing this, standards also serve as accelerators of innovation.
TSN standards enable megatrends like the Industrial IoT and automated driving
TSN is currently evolving as the networking standard for Industry 4.0 and is one of the key enabling technologies for automated driving. TTTech initiated creation of the TSN standards and is also among the leading providers of TSN-based solutions on the market. The company's TSN-based solutions are used in the industrial automation and automotive industries. Marina Gutiérrez-Lopez, Research Engineer at TTTech Labs, currently holds the position of Secretary of the IEEE 802.1 TSN working group and is also the editor of its P802. 1Qcw project. In her research, she focuses on several aspects of TSN:
"Scheduling is a technology that is at the core of TSN and TTTech itself. TSN brings guaranteed data transport with bounded low latency, low delay variation and extremely low loss. It enables Ethernet to be used to create computing networks in industrial automation, automotive and aerospace." The Living Standards Award is the most significant Austrian prize dedicated to standardization and innovation. It pays tribute to success stories on innovative solutions, ideas and future-oriented technologies with export potential. It also focuses on raising the visibility of success stories based on the application and development of standards.
Subscribe to our newsletter
Receive TTTech Auto news and updates directly in your inbox, subscribe now by completing this form.
Subscribe