Expert Talks: TTTech Auto and GLIWA
"The notion of time is fundamental to our existence. We can reflect on past events and on possible future events, and thus reason about events in the domain of time.", this is how Professor Kopetz begins the chapter "Global Time" in his book Real-Time Systems, referring to the importance of time and order in real-time systems. In the context of the automotive industry, especially today when vehicles are becoming software-defined and highly automated, the timely and accurate behavior of in-vehicle systems is more important than ever. This includes the coexistence of different software functions that share resources without compromising on real-time safety requirements.
MotionWise Global Scheduler Capabilities
At TTTech Auto, we always strive for excellence and comply with the highest possible safety standards. Our smart scheduling mechanisms create optimized schedules for the entire complex heterogeneous, multi-ECU, multi-SoC, multi-core environment. This level of proven efficiency requires mechanisms that always guarantee the precise execution of software functions within a vehicle. The need for the best possible timing tools and services led to a very successful collaboration with GLIWA, a world leader in embedded software timing-related analysis, optimization, and verification.
We sat down with Toni Baier, GLIWA's Director of Development, to explain the benefits to customers of using GLIWA's T1 tools and to share his thoughts on the results of our partnership. We also asked our TTTech Auto engineers to explain how GLIWA's world-class tools enable MotionWise to consistently deliver the best solutions to our users.
1. GLIWA: From T1.timing, the most frequently deployed timing tool in the automotive industry, to T1.stack and T1.accessPredictor, your T1 Suite offers a wide range of capabilities for tracking and controlling the resources of automotive software. What are the most usual challenges users face before turning to your tools to support their processes?
Most of the time, users do not pay enough attention to resource usage in their system, especially timing. This often leads to strange behaviors (mostly timing issues) late in the project, when most of the functionality is integrated. Very often GLIWA is called in at this stage and T1 clearly reveals the timing issues. To put it the other way round: the use of a timing tracing/measurement tool like T1, already in a very early project phase (ideally integrated into automated HIL tests), offers a great chance of not having any timing problems during the project.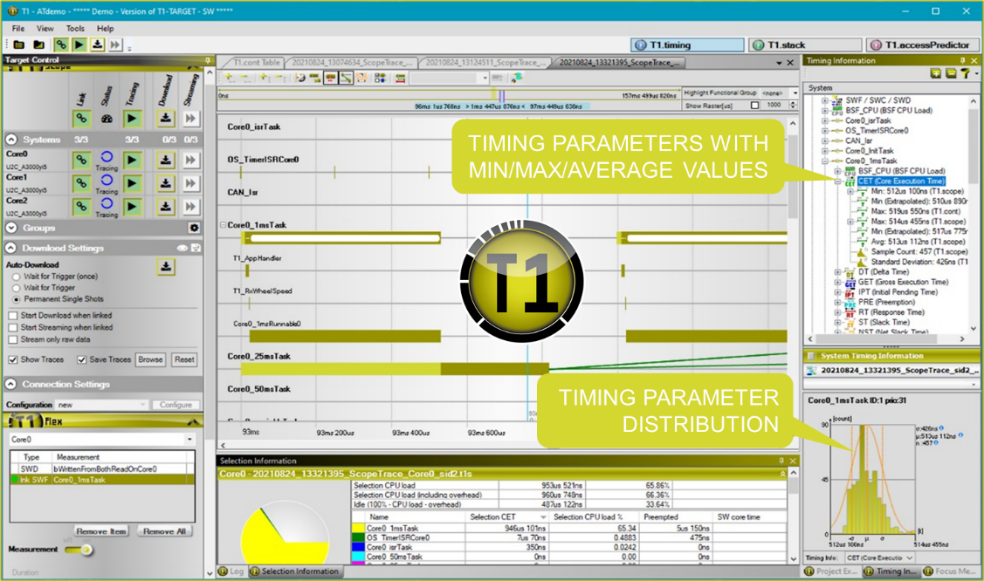 GLIWA T1 GUI Overview
2. GLIWA: Safety as an implicit automotive system property is the #1 challenge to overcome. How do your tools improve safety management to achieve this goal?
With T1.timing, the customer is able to verify all timing requirements for the safe system. Due to the fact that T1-TARGET-SW (classic) is available as an ISO 26262 ASIL D certified component, the customer can even use T1 in series production software. This has the added benefit that runtime usage data can be collected for each production vehicle and sent back for analysis.
T1.accessPredictor helps the customer ensure separation of software components with different ASILs by statically analyzing the binary code. Violations (e.g. QM code calling ASIL code or QM code accessing ASIL data) are clearly pointed out even before the software is executed on the ECU. Another aspect is that T1.accessPredictor can help find MPU violations through static analysis, which is a great time saver when it comes to finding the source of these violations in running software.
T1.stack helps the customer to properly configure and optimize the software stack(s) by statically analyzing the stack usage of the software. The result is that the stacks are large enough to cover even the worst case scenario. At the same time, no additional buffer is needed, resulting in RAM savings.
3. TTTech Auto: T1 tooling has been used on hundreds of mass-production projects for many years. At TTTech Auto, we have integrated multiple T1 extensions within MotionWise for different projects. What were the key requirements from the customer that triggered the need for these tools?
T1 is well established and well known by manufacturers and Tier1s. It offers a modern graphical user interface (GUI), state-of-the-art profiling capabilities, and requires a relatively small runtime and memory footprint. In addition, GLIWA offers versions of T1 that are compliant with automotive safety standards. All of these capabilities make it an ideal companion to the MotionWise tools and execution platform.
4. GLIWA: There was some interesting feedback from CEO Peter Gliwa. He said, "MotionWise limits and simplifies the complexity of AUTOSAR stack configuration. This is of tremendous value to the customer." Could you please elaborate on this?
At first glance, the limitation of configuration options may seem like a disadvantage, so let me explain. A regular AUTOSAR stack comes with a large number of configuration options that hardly any developer can keep track of. Many developers struggle when it comes to setting up scheduling. The default settings that some RTEs offer are, well, unfortunate. At GLIWA, we are often asked to support task forces that deal with problems created by such unfortunate configurations. Non-terminating ECC tasks, for example, are typical troublemakers in this context.
MotionWise offers a manageable and efficient solution. The user can choose from a set of well-defined and verified templates. This drastically reduces the risk of creating an inefficient or even problematic AUTOSAR configuration.
5. TTTech Auto: There are many success stories with GLIWA where T1 tools have significantly increased the sustainability of numerous automotive projects for various stakeholders. Where do you see the added value for MotionWise after integrating the T1 Suite? What is our success story in this regard?
T1 provides a convenient way to look "under the hood" of a MotionWise-powered system. It is capable of visualizing multiple hosts with multiple CPUs on a global time scale. This gives TTTech Auto an advantage during development to easily verify correct timing behavior as well as dependencies between tasks, cores, and ECUs.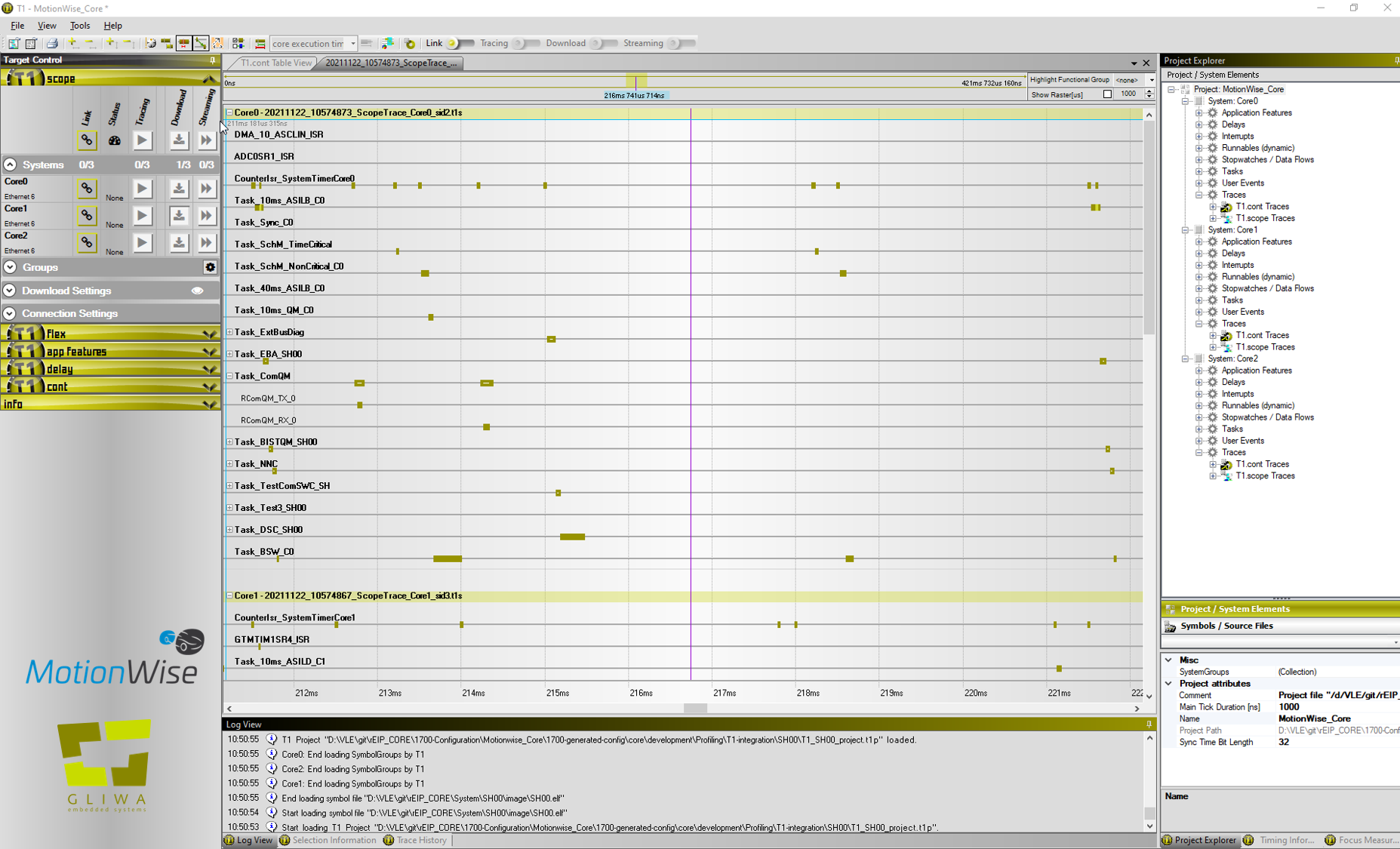 A T1 GUI screenshot of MotionWise running on Infineon Aurix microcontroller
T1 provides capabilities beyond the scope of our own performance measurement framework and is ASIL certified. It provides the ability to debug timing behavior and insert timing delays. It not only provides the status of a running system but gives engineers the ability to optimize and fix undesirable behavior.
6. TTTech Auto: T1.accessPredictor is a much appreciated and useful tool for Tier1s, according to GLIWA. Do you plan to integrate it in your future projects?
We already have advanced memory protection mechanisms on AUTOSAR ECUs and on POSIX ECUs. However, given the increasing complexity of SW, reducing integration time is key to any successful ECU project. If T1.accessPredictor can provide significant improvements and faster feedback for our internal team or for the external SW suppliers, there is no reason not to consider it. We are looking into this option for our future integration plans.
7. GLIWA: How would you describe your experience with TTTech Auto in these integration processes? Any lessons learned?
Integrating T1 into a customer software system requires some effort in collaboration with the customer. With TTTech Auto, this process went very well, thanks to the high level of technical expertise of the TTTech Auto engineers we worked with.
The big advantage of pre-integrating T1 into the MotionWise platform is that it takes almost no effort for the end customer to have world-class timing measurements at hand in their MotionWise project. Much of what is required to integrate T1 into a software project is handled by MotionWise configuration/code generation.
8. TTTech Auto: What about collaboration plans for the future? Where do you see room for improvement or where GLIWA's products and services could add value?
TTTech Auto is always looking to partner with industry leaders to develop solutions that meet the needs of our customers. In the area of timing analysis, GLIWA has a proven track record. MotionWise principles are based on the Time-Aware Architecture (TTA). This paradigm enables us to provide a predictable framework for safety and real-time domains in the automotive industry, accelerating development phases and ensuring safe and robust operation.
As E/E architectures evolve and different applications and domains are consolidated within the same ECU or even SoC, it becomes even more important to have the timing characteristics of the system under control.
By integrating GLIWA into the MotionWise ecosystem, we provide our users and customers with MotionWise, the Safe Vehicle Software Platform, a competitive solution that provides timing assurance during operation, while T1 provides the necessary instrumentation analysis tool for the development phases.
This collaboration has taken MotionWise capabilities to a higher level, always keeping the satisfaction of our customers in mind. Let us see what is yet to come. We are very optimistic about the future!
Accelerate your journey towards highly automated driving with MotionWise safety software platform. MotionWise delivers safety by design and fail-operational performance while managing the high complexity of solution elements. As a result, OEMs and Tier 1 suppliers can benefit from faster time-to-market for their automated driving projects and increased competitive edge at reduced costs.  Stay informed about the most recent technological findings in the automotive industry - visit us at www.tttech-auto.com and follow us on LinkedIn for more on this exciting topic.
Related Insights
E/E Architectures on the Way to Level 4
Read more: E/E Architectures on the Way to Level 4
Open Car.OS and the software-defined vehicle
Read more: Open Car.OS and the software-defined vehicle
How DDS simplifies multi - ECU E/E architectures
Read more: How DDS simplifies multi - ECU E/E architectures